Aluminum PCB Taiyo Solder Mask for Street Lamp
| | |
| --- | --- |
| Payment Type: | L/C,T/T,D/P,Paypal,Money Gram,Western Union |
| Terms of Trade: | FOB,CFR,CIF,EXW,FCA,CPT,CIP |
| Min. Order: | 1 Piece/Pieces |

| | |
| --- | --- |
| Packaging: | Vaccum Package |
| Productivity: | 10000 |
| Brand: | JHY PCB |
| Transportation: | Ocean,Air |
| Place of Origin: | China |
| Certificate: | ISO9001 |
Product Description
Keywords: LED Street Lamp Aluminum Base PCB,LED Lamp for Road Lighting, Aluminum PCB For Led Street Light, Aluminum PCB for Street Lamp
Jinghongyi PCB (HK) Co., Limited is a PCB manufacturer specializing in the production of high heat conduction and high power LED aluminum base circuit board, aluminum base street lamp, metal core PCB (MCPCB), double-sided aluminum base circuit board, single and double-sided copper base circuit board. It mainly provides ultra-thin, ultra-long and bendable LED aluminum base PCB board, PCB aluminum base board, street lamp aluminum base PCB, stage lamp aluminum base PCB, tunnel lamp aluminum base PCB, Aluminum substrate PCB for landscape lighting lamp, aluminum substrate PCB for plant lighting lamp, etc. At present, the company has a team of more than 500 people, with a monthly production capacity of more than 40000 square meters. The company has an independent R & D team, first-class production technology team, excellent quality management team, to create superior product quality and service for customers. Quick quotation, reasonable price, and timely delivery are one of our advantages.
Road lighting is an important part of urban lighting. The traditional street lamp often uses a high-pressure sodium lamp for 360-degree illumination, which leads to a huge waste of energy due to the large loss of light. At present, the global environment is deteriorating, and all countries are developing clean energy. With the rapid growth of the national economy, the contradiction between energy supply and demand is becoming increasingly prominent. There is a serious shortage of power supply. Energy saving is an urgent problem. Therefore, the development of new efficient, energy-saving, long life, high color rendering index, environmental protection LED street lamps and aluminum substrate street lamps are of great significance to urban lighting energy conservation.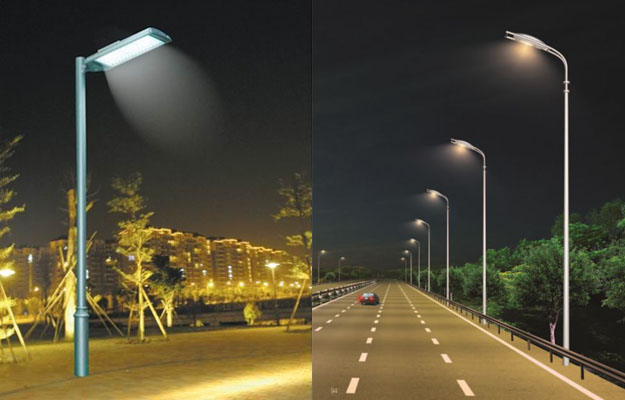 As the most eye-catching new generation of light sources in the world, LED is known as the most promising green light source in the 21st century because of its advantages of high brightness, low heat, short life, non-toxic, recyclable and reusable. LED lamps are generally produced by aluminum or metalcore, such as aluminum PCB, metal core PCB, etc.
The LED street lamp is a street lamp made of the LED light source, which has the unique advantages of high efficiency, safety, energy-saving, environmental protection, long service life, fast response speed, high color rendering index, etc. it is of great significance to energy conservation of urban lighting.
The LED street lamp is different from the conventional street lamp. LED light source adopts low-voltage DC power supply, high-efficiency white light synthesized by GaN-based power blue LED and yellow. It has unique advantages of high efficiency, safety, energy-saving, environmental protection, long life, fast response speed, high color rendering index, etc. it can be widely used in road lighting.
LED street lamp has gradually entered people's field of vision with the advantages of directional lighting, low power consumption, good driving characteristics, fast response, high seismic capacity, long service life, green environmental protection, and become the new generation of energy-saving light source with the most advantages of replacing the traditional light source in the world. Therefore, the LED street lamp will become the best choice for the energy-saving transformation of road lighting.
Because LED is a semiconductor component when its chip is affected by temperature and reduces to 30% of the initial luminous flux, it will lose the lighting significance, that is, the life is over. Theoretically, the life of a high-power LED street lamp is 30000-50000 hours, but its important premise is good heat dissipation.
Generally, the aluminum substrate PCB of street lamp has 12W, 14W, 24W, 30W, 36W, 50W, 72W, 80W, 150W, etc. the power size generally depends on the area size of street lamp head and its own heat dissipation.
The aluminum substrate PCB board of the street lamp is a kind of heat dissipation aluminum plate used in the LED street lamps and solar street lamp to reduce the temperature.
At present, the aluminum substrate PCB of the street lamp is just in its infancy in China. Only some street lamps applied in large and medium-sized cities are used. Other marginal areas will be replaced slowly in the next 3-5 years. The state has always advocated environmental protection, energy-saving, and low-carbon lighting routes. The aluminum substrate of the street lamp has a general service life of 100000 hours, with high heat conduction and low heat resistance.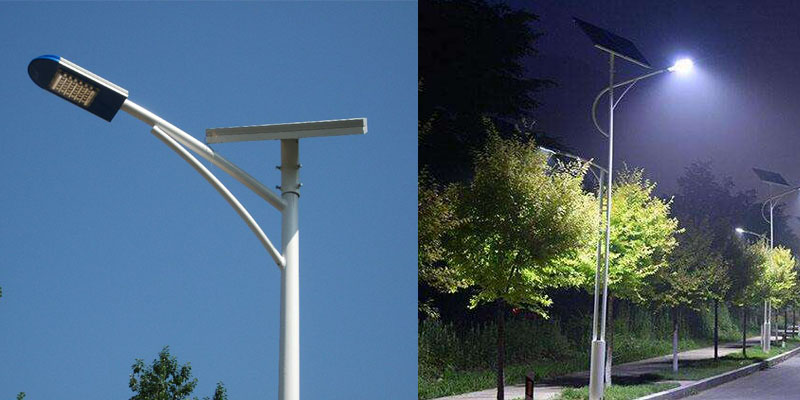 Why are aluminum PCB used in large quantities?
Aluminum PCBis a kind of special metal base copper-clad plate, which is widely used because of its good thermal conductivity, heat dissipation, electrical insulation, and processing performance. In the production process of circuit board manufacturers, it is clear that aluminum substrate can be divided into three layers, namely circuit layer (copper foil), insulation layer and metal base layer. The aluminum substrate is widely used in LED, air conditioning, automobile, oven, electronics, street lamp, high power, etc.
The thermal expansion, dimensional stability and heat dissipation performance of aluminum substrate PCB enable it to meet higher requirements of products.
1. Heat dissipation: at present, many double-sided PCB and multi-layer high-density circuit board, high-power PCB, difficult to heat. Traditional printed circuit board substrates, such as FR4 and cem3, are poor thermal conductors. They are the layer to layer insulated and cannot dissipate heat. Local heating of electronic equipment is not ruled out, which leads to high-temperature failure of electronic components, and the aluminum substrate board can solve this problem. In addition to aluminum, copper is also very good at cooling, but they are expensive.
2. Dimensional stability: aluminum alloy printed circuit board is obviously more stable than printing made of insulating materials. Heat the aluminum base printed board and aluminum sandwich board from 30 ℃ to 140 ~ 150 ℃, and the size changes by 2.5 ~ 3.0%.
3. Thermal expansion: the common nature of thermal expansion and contraction materials and the coefficient of thermal expansion of different materials are different. Aluminum-based printed boards can effectively solve the problem of heat dissipation, thus alleviating the problem of heat expansion and cold contraction of different substances in different parts of printed boards, and improving the durability and reliability of the whole machine and electronic equipment. In particular, it solves the problem of thermal expansion and cold contraction of surface mounting technology.
4. Other reasons: the aluminum alloy printed circuit board has shielding effect; the brittle ceramic substrate is replaced; the surface mounting technology is used at ease; the actual effective area of the printed board is reduced; the radiator and other components are replaced to improve the heat resistance and physical performance of the product; the production cost and labor force are reduced.
Storage and transportation of aluminum PCB
After the final inspection and vacuum packaging of the finished product, the aluminum substrate PCB will be delivered to the customer. For small and medium-sized batch production of circuit boards, general circuit board manufacturers will do more on the basis of the customer's order quantity, and then carry out vacuum packaging and storage shipping after each order is completed.
So why do aluminum PCB need vacuum packaging? How to store after vacuum packing? How long can it last?
Storage and shelf life of aluminum PCB board:
Why do aluminum PCB need vacuum packaging? PCB manufacturers attach great importance to this problem. Once the PCB board of aluminum substrate is not sealed, the surface of gold, tin spray welding and pad will be oxidized and affect the welding, which is not conducive to the subsequent PCB assembly and other processes.
So, how is the aluminum PCB stored? Unlike other products, circuit boards must not be exposed to air or water. First of all, the vacuum degree of the PCB board on the aluminum substrate cannot be damaged. When packing, a layer of bubble film shall be pasted on the edge of the packing box. The bubble film has good water absorption and plays a good moisture-proof role. The emissions are then classified and labeled. After the packing box is sealed, it must be separated from the wall and stored in a dry and ventilated place to avoid sunlight. The temperature of the warehouse is controlled at 23 ± 3 ℃ and the relative humidity is 55 ± 10%. Under this condition, PCB boards treated by gold dipping, electro gold, tin spraying, and silver plating can be stored for 6 months, while PCB boards treated by silver dipping, tin dipping and OSP can be stored for 3 months.
The PCB manufacturer is better to brush one layer of three proofing paint on the aluminum substrate PCB that is not used for a long time. Three proofing paint can prevent moisture, dust, and oxidation. This improves the storage life of the PCB to 9 months.
JHY PCB focuses on aluminum PCB prototype / mass production, with high-precision single / double sided PCB / multi-layer PCB (2-24 layers), LED aluminum PCB, flexible circuit board, FR4 multi-layer circuit board, controlled in new energy circuit, power circuit, medical PCB board, security PCB, communication circuit board, electric circuit board, instrument circuit board, military circuit board, etc., quality assurance, on-time delivery, and sales as one High and new technology enterprises.
JingHongYi PCB (HK) Co., Limited
Jinghongyi PCB (HK) Co., Limited is a professional manufacturer of high-quality PCB. JHY PCB specializes in quick turn PCB prototypes, small-medium volume PCB. Established in 2011, located in Baoan District, Shenzhen, China, with more than 500 experienced employees, we're able to achieve monthly output 40000 square meters.
PCB Manufacturing Services
As one of leading printed circuit board manufacturers based in China, JHYPCB has been offering international companies of all sizes with high-quality PCB prototype to production services at fair price for 8 years. To make professional and advanced circuit boards, we're committed to adhering to the strictest standards during PCB manufacturing process, we're fully compliant with the ISO 9001:2008 quality management system.
- Save money&time! Achieve peace of mind!
- A professional and trustworthy PCB Prototype manufacturer.
- Fastest PCB Prototype.
- One stop solution for various PCB&SMT Stencil.
- Low cost for simple PCB.
- Affordable price for high-tech PCB.
- Minimum orders 1pcs.
- 24-hour online customer service.
- Professional PCB engineer for one-to-one service.
- Shipment on time.
- Guarantee good service and quality from PCB quotation to delivery.
PCB Assembly Services
To deliver true value and convenience to our PCB fabrication clients, we expand our business to components sourcing and turnkey PCB Assembly services ranging from prototype, low-to-middle volume to high volume up to 1 million pcs. We can mount components on circuit boards using surface mount technology (SMT),through-hole technology (THT), and manual insertion:
- High quality assembly services with short lead times
- No minimum order
- No additional charge for stencils
- Free DFM Check
- 100% AOI test and X-Ray test for BGAs package
- Function tests & IC programming based on custom requirements
Our company is approved by UL, TS16949, ISO-9001, and RoHS compliance.
All boards are produced according to IPC-6012 standards and inspected according to IPC-A-600 in the latest version. Our products are widely applied in communications, industrial control, power electronics, medical equipment, security electronics, consumer electronics, LED, etc. More than 90 percent of them were exported to Europe, North America, South America.

One stop service include
Company Name: JingHongYi PCB (HK) Co., Limited
Representative: Chen Zhi
Product/Service: PCB Manufacturer , PCB Prototype , Flexible PCB , Multilayer PCB , Aluminum PCB , Rigid Flex PCB
Capital (Million US $): US$1.5 Million
Year Established: 2011
Total Annual Sales Volume (Million US $): US$50 Million - US$100 Million
Export Percentage: 91% - 100%
Total Annual Purchase Volume (Million US $): US$10 Million - US$50 Million
No. of Production Lines: 8
No. of R&D Staff: 5 -10 People
No. of QC Staff: 41 -50 People
OEM Services Provided: yes
Factory Size (Sq.meters): 1,000-3,000 square meters
Factory Location: Building 15, Wan Xia Industrial Park, Tongfuyu Industrial Zone, Shajing,Baoan District, Shenzhen, China.
Contact Person: Ms. Megan
Tel: 86-1351-0758219